History:
The Royal Australian Navy Australian Football Association (RANAFA) has a long standing history of honouring players and officials deemed to have contributed significantly to RANAFA over a number of years by inducted them into the RANAFA version of the Hall of Fame called 'Legends'.
The first inductions into the 'Legends' Hall of Fame were held in 2003 in Canberra where members past and present gathered en masse to see the inaugural 20 Legends become immortalised. The Legends were players and officials who had made an outstanding contribution to Navy Footy dating from the early 1980's - 2003. In 2004 another 6 inductees became Legends with a further 7 over the span of 2006, 2010 and 2015. In 2016 we welcomed two more 'Legends' who follow in the proud traditions and values of those before them.
Current RANAFA Legends:
The current list of 38 Legends listed below can also be found on the Legends honour board housed at the home of Navy Footy HMAS Cerberus.
| | | | | |
| --- | --- | --- | --- | --- |
| Year | Names | | | |
| 2003 | Graham Thurstans | Darren Murray | Michael Partridge | Michael Oleksyn |
| | Ken McKeown | Bill McBride | Graham Crispin | Geoff Ledger |
| | Jamie McGinley | Bob Jefferies | Col Bambrook | Adam Harris |
| | Chris Ploughman | Tony Cocks | Kevin Smyth | Doug Cornish |
| | Ian Wheeler | Jim Smail | Chris Luscombe | David Matters |
| | | | | |
| 2004 | William Veale | Michael Miller | Jamie Robinson | Robert Taylor |
| | Greg Perry | Mark Grills | | |
| | | | | |
| 2006 | Jonathon Theile | Anthony Taylor | | |
| | | | | |
| 2010 | Gary Saunders | Aaron Convery | Clinton Thomas | |
| | | | | |
| 2015 | David Strangward | Tricia Muller | | |
| 2016 | Ronald Ratcliffe | Candice Freeman | | |
| 2017 | Ken Meredith | Matthew Cavedon | | |
| 2018 | Adam Bamford | | | |
Lastest RANAFA Legends Inductees:
Navy Footy is very proud to announce the latest inductee as "RANAFA Legends". CPO Adam Bamford, Adam was inducted by LCDR Billy Veale on Wednesday 14th March 2018. Bambi, as he is affectionately known has worked tirelessly in a number of off field roles since 2009, starting off as Men's Team Manager before progressing to RANAFA Ops Manager and RANAFA Secretary. It can easily be said that without Bambi's off field roles, organising everything from apparel, transport, victuals to accommodation, RANAFA wouldn't be in the position it is now. Congratulations Adam, and from everyone involved with RANAFA both past and present, thank you for all the work you have done and continue to do.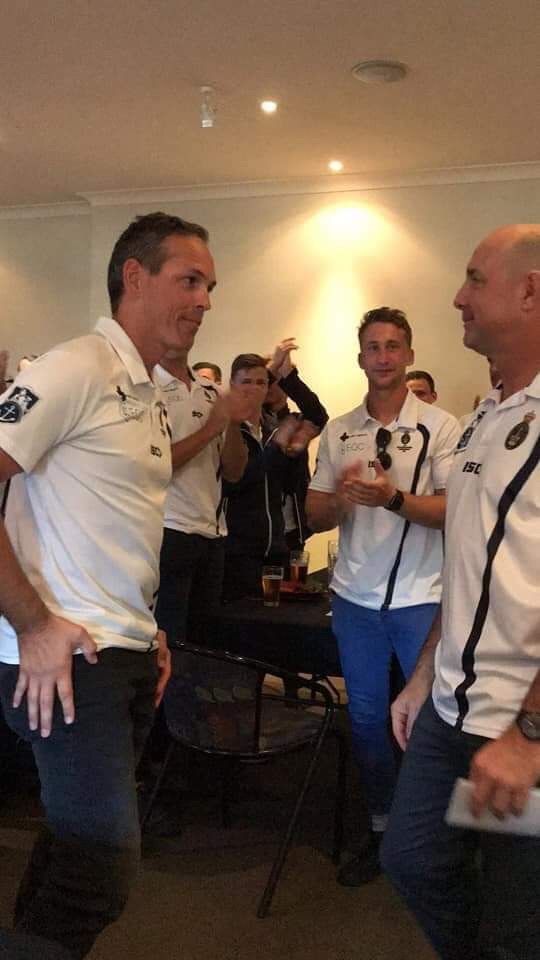 Submission statements for 2018 Legends:
Nominee: Adam Bamford
Mens Team Manager 2008, 2010 – 2014. RANAFA Operations Manager 2015-2016, RANAFA Secretary 2018 - present (at time of writing)

Starting out as Mens Team Manager in 2008 and continuing in that role up until around 2014/2015 when he assumed the role of
RANAFA Operations Manager, even before assuming the official title of RANAFA Operations Manager he was working, months in advance of the upcoming carnival, on all the pre-carnival planning, drafting up signals for release, organising apparel, transport, accommodation, booking and organising meals for the players and coaching staff to enable them to concentrate on training and coaching without worry or distraction.During RANAFA's transitioning period around 2012-2014 without Adams pre-carnival planning RANAFA would arguably have struggled to field a side for both the Mens and Womans teams or be provided with the equipment and facilities and professional training environments that we have today.

Working countless hours during and after work for months on end both pre-carnival and post-carnival, the dedication showed to continue to plan and organise the carnival, whilst juggling family life and sea postings, without looking for or seeking any recognition proves that whilst he may not have pulled on the guernsey for RANAFA, he has displayed all the values and commitment other Legends have shown throughout RANAFA's history.Having missed the 2017 season due to being deployed for 9 months onboard HMAS Arunta, he was still working in the background providing guidance and input in planning the 2017 carnival and making sure the players and staff were set up, but more so making sure the new Ops Manager had the confidence to organise and plan the program for the day to day runnings of the carnival.

Since returning from deployment, Adam has assumed the role of Secretary for RANAFA and has gone about planning and organising the 2018 carnival alongside the Ops and Carnival Managers.This legends nomination, if accepted, IMO is thoroughly deserved and recognition for all the hours he has dedicated to RANAFA for over 10 years.

Notable achievements by nominee within RANAFA and ADF football: Essesntially planned every carnival from 2010 onwards•
Other points for consideration.For myself personally, the mentorship he has shown me since transitioning from player to support staff has been invaluable as I look to continue on his hard work for future carnivals.
Navy National All Star team:
In 2006 it was decided by a group of Legends that a "Team of the Century" should be announced. Participants were invited to select their nominations for this team from players and coaches who had represented RANAFA from 1986 to 2006.
A committee was formed to co-ordinate the compilation of the "Team of the Century" with the final announcement and presentation taking place at the Queanbeyan Football Club Social Club in April 2006 to coincide with RANAFA preparations for the 2006 ASAFA carnival.
| | | | | |
| --- | --- | --- | --- | --- |
| FF | W. VEALE | J. MCGINLEY | M. MILLAR | |
| | | | | |
| HF | G. PERRY | A. HARRIS ( C ) | M. LYNCH | |
| | | | | |
| CC | C. BAMBROOK | K. MCKEOWN | J. ROBINSON | |
| | | | | |
| HB | A. O'BRIEN | R TAYLOR | R. PEKIN | |
| | | | | |
| FB | D. MATTERS | M. OLEKSYN | G. CRISPIN | |
| | | | | |
| RR | M. PARTRIDGE | B. MCBRIDE (V/C) | D. MURRAY | |
| | | | | |
| INT | J. LANHAM | C. PLOUGHMAN | K. MEREDITH | M. ROGERS |
| | | | | |
| COACH | I. WHEELER | | | |
Nominations:
Nomination forms for induction into the Legends Hall of Fame can be found in the link below. Nominations are to be submitted to LCDR William Veale, email: william.veale@defence.gov.au, by 28 Feb each year in order to be considered for induction that calendar year. Post 28 Feb each year, received nominations will assessed by the RANAFA Legends committee and pending the quality of the nominations successful candidates will be inducted into the Legends Hall of Fame at the ADFAR National Championships. ADFAR Championships are held in Melbourne in March/April each year. All nominations will receive written feedback on their nomination.
Click here to open up the RANAFA LEGENDS Nomination Form.
Legend Induction rules:
The following induction criteria are to be adhered to in order to maintain the integrity of the Legends Hall of Fame.
All members must be nominated using the Legends nomination format on this website.

There are to be no self nominations.

Nominees must have been involved with RANAFA for a minimum of 5 years and have held and performed admirably in notable positions within RANAFA e.g. Captain, Coach, players leadership group, coaching/support staff, RANAFA committee. Meeting the minimum criteria does not guarantee selection as only the highest calibre of nominations will be selected.

All nominations will be considered by the committee and its decision will be final. Feedback will be provided in writing for each nomination.

Unsuccessful nominations with potential for future induction will be stored for reference and considered at subsequent induction panels.

Inductions are to be held annually pending the quality of the nominations with a maximum of 2 people per year inducted into the Legends.

Cut off date for nominations is 28 Feb each year in order to be considered for induction that calendar year. Late entries will be retained for consideration the following year.
Please contact william.veale@defence.gov.au or adam.bamford1@fleet.defence.gov.au for more information or to provide input.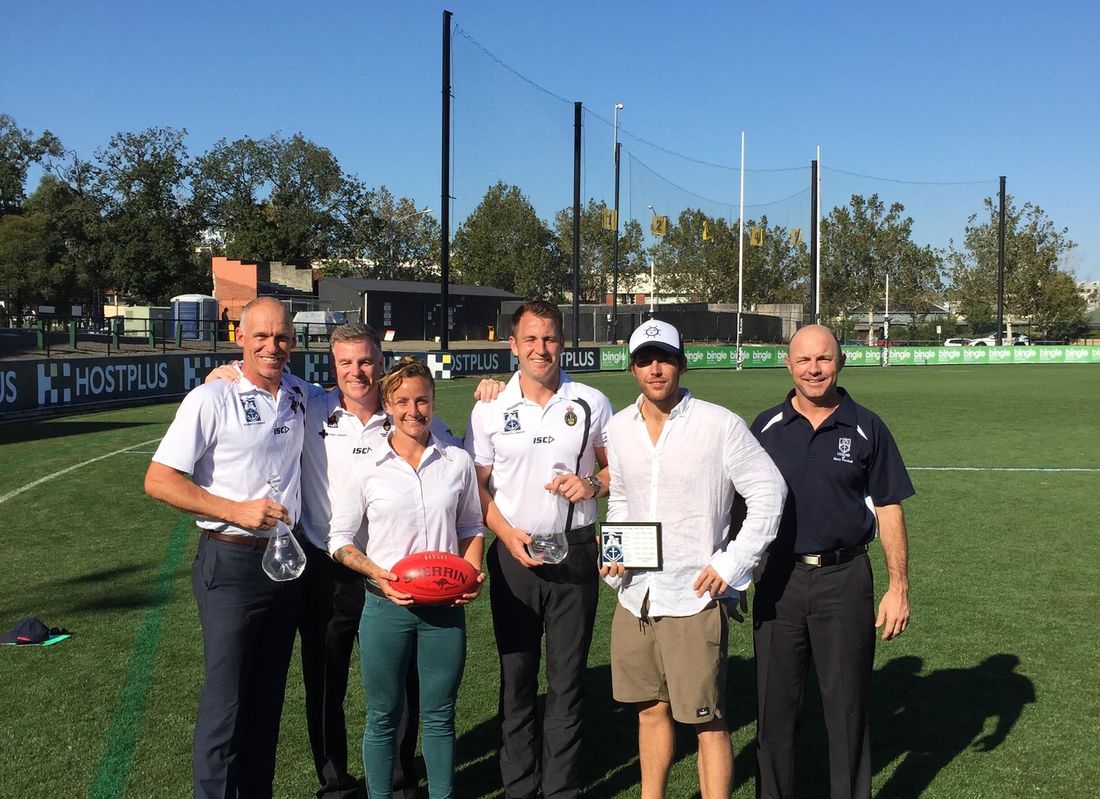 In this photo is newly inducted RANAFA Legends Matt Cavedon and Kenny Meredith, with fellow RANAFA Legends Billy Veale, Mick Oleksyn and Trish Muller as well as RANAFA All Star 2004-2016 star player Dustin Roberts