2019 - 2020 Committee members
Patron - VADM David Johnston AM
President - CAPT Mike Oborn CSM
Vice President - CAPT Jason Hunter
Assistant Vice President - LCDR Kylie Schulstad
Secretary - CPO Trish Kelly
Treasurer - LCDR Wayne McColl
Assistant Treasurer - LEUT Celeste Di Liberto
Operations Manager - CPO Adam Bamford
Sponsorship Officer - LS Amalie Sleap
Communications Officer - LS Adrian James
Men's Football Director - WO Michael Oleksyn
Women's Football Director - LCDR Liz Quinn
Carnival Manager - WO Tagan Wright
Annual General Meeting
The AGM will take place whilst the camp is being conducted at HMAS Cerberus TBC. If you are interested is nominating for any position, please contact Operations Manager LS Adrian James for more information.
Committee Profiles
Patron - Vice Admiral David Johnston, AM, RAN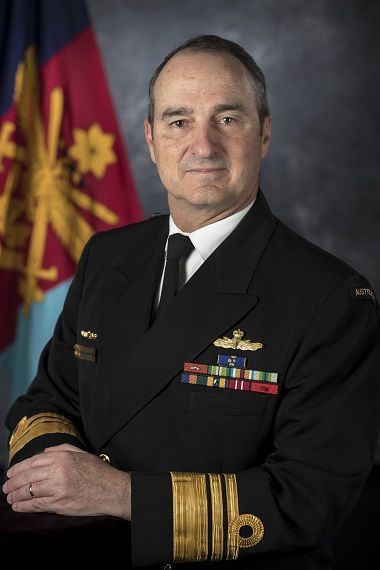 Vice Chief of the Defence Force (VCDF)
Vice Admiral David Johnston RAN was born in 1962 and entered the Royal Australian Naval College as a junior entry Cadet Midshipman in 1978. He graduated from the College in 1982 as a seaman officer, later specialising as a Principal Warfare Officer. He was appointed Vice Chief of the Defence Force on 7 July 2018.
His operational naval tours include serving as Commanding Officer of HMAS Adelaide (FFG 01) and HMAS Newcastle (FFG 06). In these commands he conducted border security patrols and deployed on Operation QUICKSTEP to Fiji in 2006.
His staff appointments include Command and Control specialist staff positions in Australian Defence Headquarters, Operations Manager at Sailors' Career Management and later as Director Joint Plans in Strategic Operations Division, where he developed strategic military response options for consideration by Government.
In July 2007 on promotion to Commodore, he joined Fleet Headquarters as Commodore Flotillas where he was responsible for planning maritime operations and the operational training of Navy's ships, submarines and diving teams.
In November 2008 he assumed the role of J3 (Director General Operations) at Headquarters Joint Operations Command. This role encompassed the operational level execution of all Australian Defence Force operations both overseas and within Australia.
In October 2010, he deployed to Operation SLIPPER in the Middle East Area of Operations as the Deputy Commander Joint Task Force 633. He supported the Commander JTF in providing national command oversight of all Australian Defence Force elements conducting maritime, land and air operations in Iraq, Afghanistan and adjacent maritime areas. He was awarded a Commendation for Distinguished Service for this role.
Promoted to Rear Admiral he assumed the role of Deputy Chief Joint Operations Command in June 2011. While performing this role he commanded the Defence Joint Task Force that supported the Commonwealth Heads of Government Meeting in 2011 and the visit by the President of the United States of America later in that year.
Vice Admiral Johnston was appointed Commander Border Protection Command in December 2011 and held this responsibility until December 2013. As commander of this multi-agency organisation he was responsible for the civil maritime security of Australia's maritime domain using resources from both the Australian Defence Force and the then Australian Customs and Border Protection Service.
On promotion to Vice Admiral in April 2014, he was appointed Chief of Joint Operations in May 2014. As CJOPS his role was to plan, control and command ADF military campaigns, operations, joint exercises and other activities in order to meet Australia's national objectives.
Vice Admiral Johnston holds a Master of Science in Operations Research from the USN Postgraduate School in Monterey, California and a Master of Arts in Strategic Studies from Deakin University. He participated in the inaugural Australian Security Executive Development Program in 2009. In 2012 he was appointed a Member of the Order of Australia (Military Division) and in 2018 was appointed an Officer of the Order of Australia (Military Division). He is married and has two children.